Description
Safer® Pyrethrin & Insecticidal Soap Concentrate II
Safer® Brand Insecticidal Soap and Pyrethrin Concentrate is OMRI Listed and labeled for professional use so it can be used in your organic farm without sacrificing certification. One bottle makes 25 gallons (treats up to 14,000 sq. ft.) of solution to eliminate hard and soft bodied insects on contact! Targets and kills variety of hard and soft bodied insects and does not kill beneficial insects.
Product Features:
Targets and kills aphids, box elder bugs, beetles, moth larvea, leafhoppers, mealybugs, mites, plant bugs, hornworms, psyllids and other listed insects!
Can be used up until the day of harvest
OMRI Listed® and Compliant for use in organic farming and gardening
Specifications:
Contains potassium salts of fatty acids (insecticidal soap) and Pyganic® (pyrethrin)
32oz concentrate
Makes up to 5 gallons
Covers up to 14,400 sq ft
Note: Do NOT store mixed solution. Only mix amount that will be used fully at each application or dispose of mixed solution that is remaining. Mixed solution will not be stable over time in storage.

Safer® Brand Insecticidal Soap and Pyrethrin Concentrate is compliant for use in organic gardening and farming.

Directions for Use:
SDS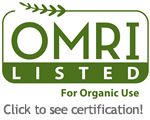 Shake container of Safer® Brand #567 Pyrethrin & Insecticidal Soap Concentrate II thoroughly prior to mixing.
Do not use this product in water with pH values above 8.0 unless a buffer solution is added to the water.
Mix one part concentrate to 20 parts water (or 6.4 oz concentrate per gallon of water). Use soft water whenever possible.
Always use freshly mixed solution. This product can be applied with all types of hand or power sprayers. Read and carefully follow the instructions for the type of sprayer you use. Apply when insects or signs of their damage appear.
Safer® Brand leads the alternative lawn and garden products industry, offering many solutions that are compliant with organic gardening standards. Safer® Brand recognizes this growing demand by consumers and offers a wide variety of products for lawns, gardens, landscapes, flowers, houseplants, insects and more!